view products menu
Garrett SuperWand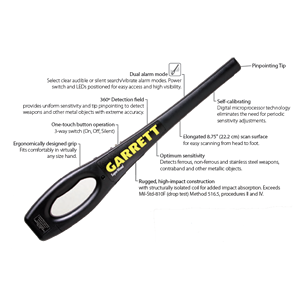 Order Product
Garrett SuperWand
Garrett SuperWand
Hand-Held Metal Detector
FEATURES
Dual alarm mode Select clear audible or silent search/vibrate alarm modes. Power switch and LEDs positioned for easy access and high visibility
360º Detection fi eld provides uniform sensitivity and tip pinpointing to detect weapons and other metal objects with extreme accuracy
One-touch button operation 3-way switch (On, Off , Silent)
Ergonomically designed grip Fits comfortably in virtually any size hand
Self-calibrating Digital microprocessor technology eliminates the need for periodic sensitivity adjustments.
Elongated 8.75″ (22.2 cm) scan surface for easy scanning from head to foot.
Optimum sensitivity Detects ferrous, non-ferrous and stainless steel weapons, contraband and other metallic objects.
Rugged, high-impact construction with structurally isolated coil for added impact absorption. Exceeds Mil-Std-810F (drop test) Method 516.5, procedures II and IV.
Garrett SuperWand Catalogue
Download PDF 1.0 MB