view products menu
Tactical CCTV vest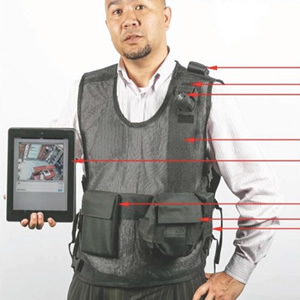 Order Product
Tactical CCTV vest
LIGHT WEIGHT TACTICAL SURVEILANCE CCTV VEST
Proudly engineered in South Africa
AAW has taken physical guarding security to the next level.
By developing a fully wearable lightweight CCTV monitoring system with live video and 2 way audio, guards on site can now be optionally linked to your control room and/or client.
Benefits include:
Live monitoring of foot patrol guards, CIT and reaction services.
Full two way communications, video, voice and data, live and recorded.
Meshed video verification capability.
 Accountability and liability of the security personnel at all times.
Remote monitoring of alarm activations and on site response as they occur.
Reduced monthly physical monitoring costs.
Added delivery and service value to clients.
Optional Panic Button with video pop up.
GPS positioning and Geofencing.
GSM, 3G, EDGE, GPRS, 2 way speech.
Alert activation to designated control rooms, laptops, cell phones and tablets.
Low bandwidth 4fps@8Kbps.
Battery life – optional 10 or 20 hours.
Physical security has become an expensive and untrusted service, by implementing our remote monitoring solution, security companies have the opportunity to offer their clients a much higher level of security which then creates a far higher level of trust between the client